Calling all parents
AlisonMurry, 8 years ago
4 min

read
36
Parent-Child Agreements help set the back-to-school rules for cell phone usage
by Jack Brundige, Director of Sales for U.S. Cellular in Tennessee
As children head back to school this month, some students may be carrying a new cell phone for the first time. Mobile phones provide security, access to educational technology and more, but they also add responsibility for students and challenge parents to ensure that kids are using their phones courteously and safely.
How do parents talk to kids about the new responsibility of using a cell phone? Through a recent customer survey, U.S. Cellular discovered that 91 percent of parents either already set or plan to set mobile phone usage guidelines for their children, and 63 percent indicated they would find it helpful to have a tool to help guide their ability to supervise children's usage and behavior with their cell phones.
That's why we created a Better Moments Parent-Child Agreement to guide the conversation about cell phones between parents and children. The agreement, available to download for free at www.ChildPhoneAgreement.com, is customizable so that families can make it work for their specific needs. It includes suggestions on safety and etiquette, and parents also have the opportunity to create their own guidelines that focus on creating better moments with their families.
"The Parent-Child Agreement is an easy way to set some ground rules that everyone can agree on."
Giving a child his or her first cell phone is a big step for any parent, and we want to provide families with the tools they need to make the decision as smooth as possible. As a parent, I know my mind was at ease once my children had their own phones. Especially, as they became more involved in after-school activities and started driving, our cell phones made it easy for us to stay connected and organized, and it gave me peace of mind to check in with a call or text and know my kids were safe.
The Parent-Child Agreement is an easy way to set some ground rules that everyone can agree on. Families can set rules for how the phone will be used at school, like agreeing to put phones away according to school policy.
After your family has finalized your agreement, smartphones can become a "Back-to-School Command Center" with everything needed to navigate the school year. From organizing school activities and assignments to helping reinforce key homework concepts in an engaging way through educational apps, a cell phone can be an indispensable tool for student success. I wish my children had access to this type of technology from early on in their education – apps and games can truly make homework and education even more fun.
Here are some tech tips for great school year:
Organize the Family Schedule: Apps like U.S. Cellular Family Organizer by Cozi (free) allow a busy family to put all of the detailed family schedules into once centralized place for quick and easy access.
Homework and Study Helpers: Use your smartphone or tablet to help your younger students by downloading Math Practice Flash Cards (free) which allows students to practice addition, subtraction, multiplication and division problems and Political Maps (free), which shows kids the countries of the world with their capitals and the languages spoken within those areas.
Keep on Top of Assignments: Get kids' devices ready to go back to school with apps that can simplify and enhance their studying and homework. Older students can self-manage their homework, schedule study time, homework and tests using the handy HomeWork app (free).
Know the Rules: Parents can have even more control when it comes to kids' cell phone use with a service like U.S. Cellular's Family Protector App. You can customize your child's phone to work only during certain hours or for certain approved numbers. You can also restrict access to certain websites and phone numbers, or even create a geo-fence so that you receive an alert when your child has left a designated area.
If you want to learn more about these tools or services, ask your wireless carrier or stop by your local U.S. Cellular store. We'll be happy to help whether you're a customer or just have some questions. We're here to help you make the most out of what technology can do for parent and students, during the busy school year and all year long.
As director of sales for U.S. Cellular, Jack Brundige leads a team of 200 associates and oversees company sales in East Tennessee and beyond. Jack and his team support several local organizations and activities such as Big Brothers Big Sisters of East Tennessee, Knox Area Rescue Ministries, Knoxville Area Urban League, YWCA, U.S. Cellular Soccer Complex, Bijou Theatre and the Knoxville Zoo. Jack and his wife, Jackie, live in Knoxville and have two children: Austin, age 23, and Alyssa, age 20.
Related posts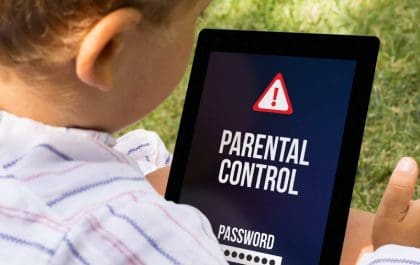 Set Up a Parental Control for Online Safety
Have you ever wondered how long your children spend in front of a device without your supervision? Yes, it is…
Adopt A Life, Save A Life
By Jeff Ashin, CEO, Young-Williams Animal Center. Photo by: Young-Williams Animal Center Are you or your child thinking of adding…