The gift of life
AlisonMurry, 9 years ago
3 min

read
33
By Chief Lee Tramel, Knox County Sheriff's Office
Every holiday season brings a time to give thanks. It seems every year that I live, I have more and more to give thanks for. So for this month's article I'm getting a little personal. I would like to take this opportunity to share some of the reasons I am thankful.
To begin with, I am thankful for the season. I believe that the most important gift is the gift of life through Christ, and for that I am thankful. I'm thankful for the foundation that was built by my parents a long time ago, a foundation of faith and family that still holds strong today. I'm thankful for my wife, who has put up with me for almost 20 years now, and our daughter who, we believe, is a gift from God and is absolutely the light of our lives. When I look past God and family I look to my job. I am very thankful to have had the privilege to grow up and work for the Knox county Sheriff's office. I started my law enforcement career when I was 22 years old and working for the citizens of Knox County for over 20 years has been an awesome experience filled with both triumph and tragedy. I am thankful to have had the opportunity to work for three different Sheriffs. Learning from these great public servants has allowed me to be successful in my profession. These are things each of us should be thankful for; God, family, job.
When it comes to family, this year it has gotten even more personal. My brother Tim passed away on May 28th after a courageous battle with cancer. Tim loved to play golf and he was most alive on a golf course. I am thankful for the 41 years and 10 months that I had my little brother. I am thankful for the bucket list we made, and on that list was to play golf from Pebble Beach to Pinehurst. I am thankful that we got most of it done. I am thankful of the time we had, and the memories we made. I'll never forget the lessons on living he taught me.
Working at the Sheriff's office I have witnessed courage on many different levels. Watching my brother battle cancer was courage beyond belief. He stood up to everything they threw at him and never complained. Clinical trial drugs trying to save his life would make him so sick, but he would never complain. Anytime you would see Tim and ask "how are you doing" the standard answer was "I'm doing fine, God has been good to me".
The last round of golf we played together was May 8th at Washington Duke Inn. He was unsteady on his feet and his balance was just about gone, but he never quit. "Quit" wasn't a word in his vocabulary. He battled that round like he did his life. It was amazing to watch him play. Being the big brother it was supposed to be me teaching the lessons and him learning, however, life does have a way of leading. I am thankful for Tim's wife Tracie. He has left me with a fabulous sister-in-law. She was his soul mate, and I am so glad he had that experience of true love before he died. She is a gift from him to our family who we cherish. So in this season to be thankful, be thankful for the good and also the bad, because bad times can give you reasons to be thankful, if you look closely.
Lee Tramel is the Assistant Chief Deputy for the Knox County Sheriff's Office. During his 26 year career, he also served in the civil warrants division and as Assistant Director of the Court Services Division. Lee is a Knoxville native, where he lives with his wife and 10 year old daughter.
Related posts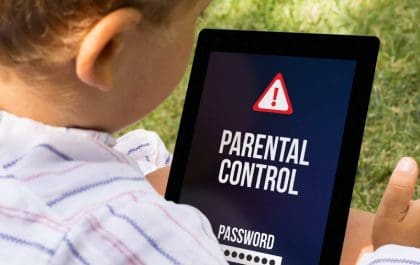 Set Up a Parental Control for Online Safety
Have you ever wondered how long your children spend in front of a device without your supervision? Yes, it is…
Adopt A Life, Save A Life
By Jeff Ashin, CEO, Young-Williams Animal Center. Photo by: Young-Williams Animal Center Are you or your child thinking of adding…