By Co-National Directors April McMillan and Trent Nichols. Photos by PopFizzTM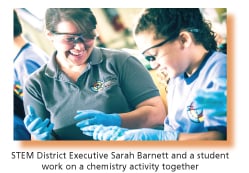 We are very fortunate here in East Tennessee to be the first in the nation to test a new after-school program that focuses on fun and exciting opportunities for elementary through high school students in science, technology, engineering and math (STEM). This values-based, character development program places emphasis on showing youth how to apply STEM in their everyday lives, develop their leadership skills, and encourages them to expand those experiences into a future career by giving them the opportunity to connect with STEM professionals. It is designed to be fast-paced, thought-provoking and most importantly – FUN!
What is STEM Scouts?
A coed program of the Boy Scouts of America (BSA), STEM Scouts offers a Scouting experience with less focus on the outdoors. STEM Scouts follows the BSA Scout Oath and Law with the goal of producing young men and women who are leaders, display confidence, realize their skills and limitations, are respectful of others' opinions, are problem solvers in all aspects of life, look for opportunities to serve others, are good citizens, and demonstrate integrity in all phases of their lives. "Specialized programs are not new to the Boy Scouts," said Michael Ramsey, marketing director for BSA.  "In fact, the concept dates back as early as 1913 with the creation of Sea Scouting. We're optimistic this will take off and have positive outcomes for youth everywhere."
 It is designed to be fast-paced, thought-provoking and most importantly – FUN!
STEM Scouts are grouped into "Laboratories", and the first pilot Laboratories began in March at the Clayton-Bradley STEM Academy in Maryville followed by Oak Ridge High School. Currently, Clayton-Bradley Academy, Oak Ridge High School, Karns Middle School, Robertsville Middle School and Stanford Eisenberg Knoxville Jewish Day School have Labs. Labs are on the way at Farragut Intermediate, St. John Neumann Catholic School, Woodland Elementary, Powell Elementary, and more.
If you would like to bring STEM Scouts to your school, church, after-school program, or homeschool group, just let us know. A STEM Scouts staff person will be happy to come talk to your group.
How Can You Be Involved with STEM Scouts?
In addition to needing participants, the STEM Scouts program relies on interested community members to serve as Lab Adult Volunteers and STEP (short-term, experience professionals) volunteers. The program is designed to be hands-on and focused on the needs of the students, so community involvement is key to its success.
The program is designed to be hands-on and focused on the needs of the students, so community involvement is key to its success.
It's also a great way get to know some terrific students, spend time with your child, or help make a difference in someone's life—today and tomorrow. The curriculum for each Lab is created by educators and STEM professionals and designed to be easy to use. If you can follow a recipe book, you can lead a Lab. We need STEP volunteers to help Labvolunteers keep things interesting.
Opportunities for Involvement:
Become a Lab Volunteer: Each Lab must have two adult volunteers for every 15 students. For the middle and high school levels, one of these volunteers should have STEM experience.
Be a STEP Volunteer: STEP volunteers can participate as much or as little as time allows. Help throughout an entire 4- or 6-week module, do a presentation at a meeting, host a field trip, or assist a Lab volunteers on certain modules.
Charter a Lab unit: STEM Scouts relies on chartered organizations to start Lab units. Chartered organizations can include businesses, professional organizations, parent-teacher organizations, homeschool networks, and any other group that wants to help provide a Lab for students.
Find out more about volunteering or chartering a Lab unit at www.STEMScouts.org.
Where Can I Find More Information?
Please visit our website, www.STEMScouts.org, for more information. From the website you can register for Labs, learn more about the curriculum, see STEM Scouts updates and current news via our blog, watch a video about STEM Scouts, sign up to be an adult volunteer, register to get our E-Newsletter, or connect with STEM Scouts on social media. You can also call 865-588-6514 or email info@stemscouts.org to speak to a staff member.
Related posts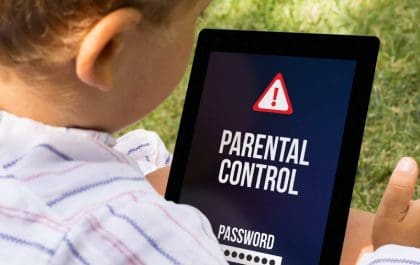 Set Up a Parental Control for Online Safety
Have you ever wondered how long your children spend in front of a device without your supervision? Yes, it is…
Adopt A Life, Save A Life
By Jeff Ashin, CEO, Young-Williams Animal Center. Photo by: Young-Williams Animal Center Are you or your child thinking of adding…