Car Seat Safety Tips
AlisonMurry, 7 years ago
3 min

read
48
Nine out of ten parents leave the hospital with a newborn in an improperly installed car seat according to a 2014 study. To help protect your bundle of joy, TIS Insurance Services, Inc. of Knoxville and its insurance carrier partner, The Hanover, are offering tips for parents on the proper use of child restraint systems.
"When used incorrectly, child restraint systems can actually increase the risk of injury in a crash," said Lisa Churchwell, director of public relations and communications at TIS. Churchwell stresses the importance of proper car seat use including following the recommendations from the National Highway Traffic Safety Administration.
Car Seat Safety- Tips on Proper Use
Who: Infants and children less than 2 years old should be rear-facing until they reach the maximum height or weight for their car seat model. Any child who has outgrown his or her rear-facing car seat should be placed in a forward-facing car seat until he or she reaches either 4 years of age or 40 pounds. As a general rule, a child has outgrown his or her forward-facing car seat when the top of his or her ears reach the top of the seat.
Installation: When using a rear-facing only seat, make sure your car seat base is installed at the correct angle. Babies must ride sitting semi-reclined so their airways remain open. The car seat should not move side-to-side more than 1 inch, but do allow some room to absorb some impact. The latch system or the seat belt can be used, but not both.
When used incorrectly, child restraint systems can actually increase the risk of injury in a crash," said Lisa Churchwell, director of public relations and communications at TIS.
Harness safety: Always use a five-point harness and properly position it on your child per the manufacturer's specifications. The harness must be snug. Place the top of the chest clip at the armpit level. For rear-facing seats, harness straps should enter the seat below the child's shoulders. For forward-facing seats, they should be at or above the shoulder. Car seat harness straps should not be washed, even in water, as it can compromise the fire-retardant chemicals and weaken the integrity of the straps. Children should not wear winter coats in harnessed car seats. The added bulk can prevent proper harness tightening that allows the child to shift dangerously in the event of an accident.
Booster Seat Safety
Who: All children whose weight or height is above the forward-facing limit should use a belt-positioning booster seat until the vehicle seat belt fits properly. This is typically when they have reached 4 feet 9 inches tall and are between 8 and 12 years of age.
Belt placement: The lap belt should lay low and snugly across the child's upper thighs below his or her hip bones. The shoulder belt should cross the center of your child's chest and shoulder. It should not cut across the neck or face. Never put the shoulder belt behind your child's back or under his or her arm.
General Car Safety Tips
Center of the backseat: The safest placement for your children is the center of the backseat. Children younger than 13 years of age who ride in the front seat can risk serious injury from other cars as well as airbags.
Check expiration date: Registering your child's car seat will allow the manufacturer to alert you of any recalls. Note the expiration date on the seat as most are only effective for six years. In the event of a car accident, be sure to check with your independent agent to determine whether your car seat needs to be replaced. Your insurer may cover the cost to replace a damaged car seat.
Get it inspected: Proper installation of child car seats is critical. Churchwell recommends having your seats inspected. For a list of inspection sites closest to you, please visit the National Highway Traffic Safety Administration.
Related posts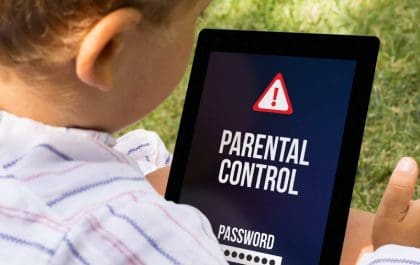 Set Up a Parental Control for Online Safety
Have you ever wondered how long your children spend in front of a device without your supervision? Yes, it is…
Adopt A Life, Save A Life
By Jeff Ashin, CEO, Young-Williams Animal Center. Photo by: Young-Williams Animal Center Are you or your child thinking of adding…