The Best Things In Life Are Free
AlisonMurry, 6 years ago
3 min

read
40
By Jeff Ashin, CEO, Young-Williams Animal Center. Photo by: Young-Williams Animal Center
Interested in making a change in your community? One of the best places to volunteer may be right near you– an animal shelter. There are numerous ways that your kids can help homeless pets at Young-Williams Animal Center. Volunteering is a wonderful way to learn, have fun and give back to your community. At YWAC, you must be 16 years or older to work with or around animals on-site, but there are many other means of actively getting involved.
At first, teaching the concept of compassion could be quite the challenge, especially if children are young and have a limited perspective of the world. By volunteering to help animals in need, your kids or teenagers can learn the concept of compassion and empathy, and also how it applies to the world around them, including their peers. It's been shown that volunteering even just one hour a week can help boost self-esteem. Children learn what's it's like to have a civic responsibility.
You will also help strengthen the bond with your child, by performing an activity together. Whether you make toys, stuff envelopes for an educational mailing or assist with a fundraising event, your children can make a difference in the lives of animals.
Volunteering is a wonderful way to learn, have fun and give back to your community.
Our Paws for Reading program provides enrichment opportunities for our many shelter pets and also helps provide animal welfare education and outreach to younger audiences. Children in grades 1 through 8 participate to improve their literacy skills by reading books to cats and dogs at the Young-Williams Animal Center location on Bearden Hill.
Working in a volunteer capacity will help your kids gain new skills by putting them in a position that will require them to gain and utilize the things they've learned. Whether it's proper care of animals or another community organization, every volunteer act will help your youngsters learn new skills and valuable lessons.
Volunteering for an animal shelter will also help boost physical activity. With modern technology, so many favorite activities of today's kids require nothing more than an electronic device and a comfortable place to sit. Getting your kids involved in volunteering has physical benefits in addition to the many psychological and emotional ones.
Kids may not always realize where they're interests lie, due simply to the fact that they haven't been exposed to them yet. Budding veterinarians may feel that spark as a result of volunteering at the local animal shelter.
Young-Williams Animal Center takes in nearly 12,000 animals a year. Every pet has a story and a sweet soul waiting to be helped.

Jeff Ashin is the CEO of Young-Williams Animal Center, a 501 (c)(3) not-for-profit animal welfare organization and the official shelter for Knoxville and Knox County. The center offers pet adoption at two locations and affordable spay/neuter solutions. For more information call 865-215-6599 or visit www.young-williams.org
Related posts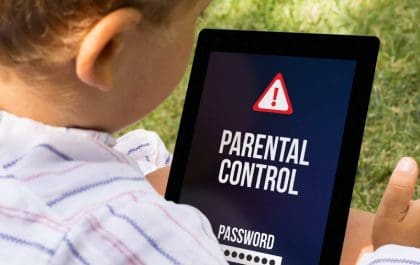 Set Up a Parental Control for Online Safety
Have you ever wondered how long your children spend in front of a device without your supervision? Yes, it is…
Adopt A Life, Save A Life
By Jeff Ashin, CEO, Young-Williams Animal Center. Photo by: Young-Williams Animal Center Are you or your child thinking of adding…