How the Knoxville Symphony Reaches East Tennessee Students
AlisonMurry, 8 years ago
5 min

read
32
by Rachel Dellinger, KSO Communications Director
Photos courtesy Knoxville Symphony Orchestra
Did you know Knoxville houses the oldest continuously operating symphony orchestra in the Southeast? Established in 1935, the Knoxville Symphony Orchestra (KSO) is led by Maestro Lucas Richman and is currently entering its 78th season. The KSO's mission is to maintain a nationally recognized regional orchestra that serves the people of East Tennessee by upholding the highest standards of excellence in its musical performances and educational programs. Two unique programs designed for students include the Young People's Concerts and the Very Young People's Concerts. The KSO also visits schools, libraries and public events such as the Children's Festival of Reading and annually reaches over 30,000 students. The KSO participates in Penny for Arts, a program designed to give every child in Knox County an opportunity to attend arts and culture events FOR FREE. Keep reading to find out more!
Young People's Concerts and VERY Young People's Concerts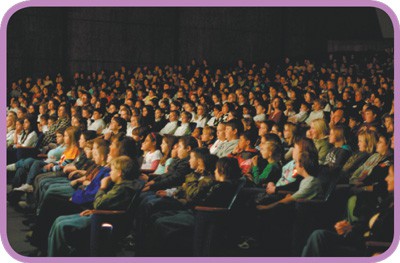 Attending a Young Peoples' concert at the Tennessee Theatre.
One creative way to introduce kids to classical music is to make it fun! The Young People's Concerts (YPCs) are a first-time symphony experience for many children (geared toward students in grades 3rd through 5th). This year the Young People's Concert has a game-show format that explores music history in "Orchestra Quiz Show." The KSO strives to make the concerts an interactive experience by including guest musicians and visual elements. Audiences include approximately 2,300 elementary school students PER CONCERT, or 11,500 students total. There are five opportunities to catch the YPCs this fall! The YPCs will take place on October 30 & 31 at 9:30 a.m. and 10:45 a.m. as well as November 1 at 9:30 a.m. at the Knoxville Civic Auditorium. Individuals may attend for $6 per person at the door.
Picardy Penguin interacts with the audience at a KSO VERY Young People's Concert.
Who doesn't want to dance with a talking penguin? The Very Young People's Concerts (VYPCs) are comprised of music and stories specially selected for preschool, kindergarten, first and second grade students. During the one-hour performance, narration and exciting visual elements such as slides, video projections, props, lights, and costumes are used to stimulate the students' interest, and plant the seed for further music education growth. The program "Shall We Dance?" explores all types of dance music with the help of Maestro Lucas Richman and the KSO's animated friend, Picardy Penguin. The audience of youngsters fills an auditorium of approximately 1,500 students every year. This season, the VYPCs will take place on February 25 at 9:30 a.m. at the Tennessee Theatre. Individuals may attend for $8 per person at the door.
Library Story Time with the KSO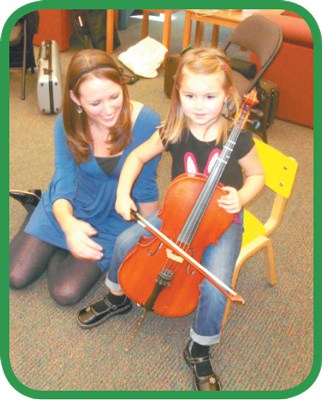 Children enjoy musical activities during Library Story Time.
In partnership with the Knox County Public Library, the KSO's Story Time quartet visits more than a dozen libraries throughout the community each season. Members of the quartet combine stories about music with classical selections, sound effects, and hands-on learning for pre-school aged children and their parents. Programs in public library branches are FREE and open to the public. In 2010, this program expanded to also serve pre-kindergarten students in Knox County Schools. The 2013-14 program is "Dig Into Reading!" and the schedule can be found at knoxvillesymphony.com. Join us for fun with classical music as we Dig Into Reading together at the library!
Penny 4 Arts Performances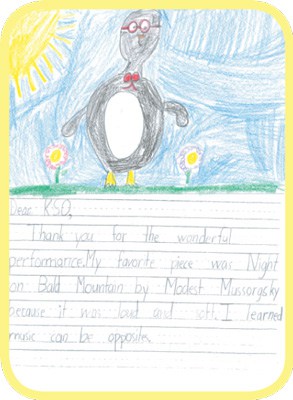 Kathleen, a 1st grader, shared her experience with the KSO.
Believe it or not, your student may be able to attend a full orchestral performance for one penny. Not possible, you say? The KSO participates in the Penny 4 Arts program by allowing any student in Knox County grades K-12 to attend any of the eight Masterworks or five Chamber Orchestra performances for FREE. Penny Performances give every child an opportunity to attend arts and culture events or activities at the maximum cost of ONE PENNY when accompanied by an adult during the academic school year. (One adult ticket must be purchased – WARNING – you and your child may bond during this experience.) The Penny Performances program meets the local arts community's long-term goal of serving and educating East Tennessee's children. This includes public, private and home-schooled students. The KSO just asks that the parent contact the box office (865-291-3310) prior to the day of the concert in order to redeem tickets to the concert of their choice.
The Knoxville Symphony Orchestra is led by Music Director Lucas Richman & consists of 75 professional musicians and performs more than 250 programs throughout East Tennessee each season. Performing in traditional venues such as the Tennessee Theatre, Bijou Theatre and the Civic Auditorium, and in non-traditional places like hospitals, school classrooms, nursing homes, city parks and churches, the KSO reaches more than 200,000 people throughout the region each year.
SAVE THE DATE for the KSO's Young People's Concerts and
Very Young People's Concerts!

Young People's Concerts (grades 3-5) – Oct. 30 & 31 – 9:30 & 10:45 AM; Nov. 1 – 9:30 AM only; Knoxville Civic Auditorium, $6 per person at the door

Very Young People's Concerts (pre-K through 2nd grade) – February 25 – 9:30 AM at the Tennessee Theatre, $8 per person at the door

More info on all our youth programs can be found at
www.knoxvillesymphony.com.
Picardy Penguin is an animated character, created by Maestro Lucas Richman for orchestras to use as a mascot for their young people's concerts. Projected on a screen above the orchestra, Picardy serves as the catalyst for musical exploration during educational concert programs, as he interacts with the conductor, orchestra, soloists and audience. Dialogue and motions are triggered by a computer operator, creating the innovative new media component of live, interactive animation. Picardy made his debut with the Knoxville Symphony Orchestra in 2006.
Related posts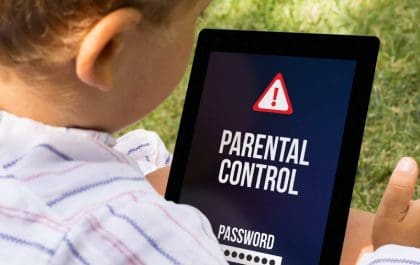 Set Up a Parental Control for Online Safety
Have you ever wondered how long your children spend in front of a device without your supervision? Yes, it is…
Adopt A Life, Save A Life
By Jeff Ashin, CEO, Young-Williams Animal Center. Photo by: Young-Williams Animal Center Are you or your child thinking of adding…