Great back-to-school tips and strategies
AlisonMurry, 8 years ago
4 min

read
330
It's that time again: Back to school! Students often have a difficult time getting back into their daily school routines. This is the perfect time to create back-to-school habits and strengthen routines to make your household less stressed. From creating a "Bus Stop" station for school belongings to organizing "homework play dates" to make homework more fun, here are some back-to-school tips to make your school year a success!
Back-to-School Habits
Set and practice your child's school bedtime routine.
Plan a few family activities that require everyone to get up at the regular school time to help your child get in the habit of getting up early again.
Prepare lunch and perhaps set out breakfast the night before.
Limit caffeine and sugary snacks when it's close to bedtime.
Reduce excessive use of technology (television, non-educational computer games, cell phone, etc.) in the evenings, and replace these activities with reading time, computer research or educational games.
Read (or listen) to your child as a bedtime ritual for at least 20 minutes each night.
Create a "Back-to-School Chore Chart," so your child will know what habits he or she needs to continue now that school responsibilities are once again in the mix! See the examples below:
Morning Responsibilities:
Put on school clothes
Brush hair
Make the bed
Eat breakfast
Brush teeth
Place school items (homework, projects, etc.) in the backpack
Pack lunch and snack
After-school Responsibilities:
Place items in the "Mom and Dad" mailbox
Change clothes
Place laundry in hamper
Eat snack
Enjoy playtime break
Clean room
Set table
Complete homework
Eat dinner
Clear table
Shower, brush teeth, and floss
Set out clothes for next day
Prep book bag for next day and place at the door
Read for 20 minutes
Back-to-School "Homework Play Dates"
Organize study and homework "play dates"or "study dates" with your child's friends.
Confirm who will be supervising.
Create a schedule of start and finish times.
Exchange contact information with the parents.
Try to select friends within walking distance or close driving distance.
Review the homework assignments, so you can better supervise completion.
Create games with flashcards for the children to use.
Provide tasty but healthy snacks.
Keep the homework date limited to only a few children, but rotate locations so all parents will have their "turns."
Leave time for the homework date to turn into a "play date" after all homework is completed.
Consider inviting parents, too!
Share your child's learning style with the supervising adults. Visit mychildsfuture.org/parents/item.htm?id=29&edlvl=1to learn more about learning styles.
Describe your child's study style and techniques. For example, does your child prefer studying with a lamp or a bright light? What about a soft chair or perhaps the floor? Research shows both good and bad effects of listening to music while studying, but don't wait until the night before a test to see if this method works for your child. Visit emedexpert.com/tips/music.shtml to learn more about music and learning.
Back-to-School Organizational Tips
Create a wall calendar and corkboard area to place important homework assignment, class schedules, appointments, school dates to remember, etc.
Create a "Mom and Dad" mailbox in which your child can place papers each day.
Create color-coded folders for class lists, medical information, school directories, field-trip information, etc., for each child.
For less clutter, create boxes for storage of books, crayons, paper, etc.
Create index cards for dinner ideas to keep your weekly meal planner manageable. Be sure to include "Make-Your-Own-Sandwich" Night!
Confirm your emergency backup contact person and be ready to share this information with the school.
Create a daily checklist for you and your child to make sure you have what you need before leaving home (soccer supplies, tennis shoes for P.E., etc.).
Create a "Bus Stop" station for backpacks, umbrellas, jackets, rain boots, etc.
Create a "Lunch Station" for both refrigerated and dry snacks for easy access before and after school.
Create a "Homework Station" that aligns with your child's learning style.
Decorate and fill a basket, bin or even an old briefcase with school supplies, so the "Homework Station" will be well organized.
Related posts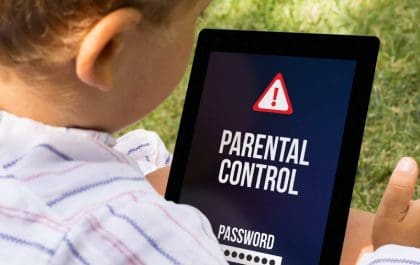 Set Up a Parental Control for Online Safety
Have you ever wondered how long your children spend in front of a device without your supervision? Yes, it is…
Adopt A Life, Save A Life
By Jeff Ashin, CEO, Young-Williams Animal Center. Photo by: Young-Williams Animal Center Are you or your child thinking of adding…