Protecting Your Child from the Flu
AlisonMurry, 8 years ago
3 min

read
29
By Darci Hodge, ETCH Director of Infection Control
Children have a higher risk of getting the flu because their immune systems are still developing. This risk is even greater in children with long-term health problems, like asthma and diabetes, and children age 2 and younger. This is why your child should get the flu vaccine as soon as it is available.
In the U.S., about 20,000 children younger than the age of 5 require hospital care each year for flu-related problems. The Centers for Disease and Prevention reported 34 deaths of children during the 2011-2012 flu season.
The flu is a respiratory illness that can spread through the upper and lower respiratory tract. It is caused by a virus and can spread quickly. The flu can appear in late September or early October and continue through spring. It is also common to see cases during the summer months. Its symptoms include:
Coughing
Headache
High fever for several days
Fatigue
Chest Soreness
Overall Weakness
Getting your child vaccinated is the best protection from the flu. Everyone 6 months of age and older should get the flu vaccine as soon as it becomes available—especially children between 6 months and 5 years and those with chronic health conditions. Children younger than 6 months can't receive the vaccine. But they can have some protection if the adults and older children in the family get the flu vaccine.
Your child can get the vaccine by:
A needle if age 6 months and older
Nasal mist if 2 years and older (The mist is not
advised for children with certain medical
conditions.)
Other ways of protecting your child against the flu are:
Washing your hands with soap and water:

After using the bathroom.
Before eating.
After sharing another child's toys.

Staying away from people who are sick.
Preventing the spread of germs by not touching your mouth, eyes and nose.
Covering your coughs and sneezes with a tissue. Throw the tissue away after using it.
If your child shows signs of the flu, including a high fever and/or a cough:
Give your child plenty of liquids.
Make sure your child gets enough rest.
Talk to your primary care physician or pediatrician about medication that might help them recover from the flu quicker.
Go to your doctor or get emergency help as soon as possible if your child (no matter what the age) has any of the following warning signs:
Has a bluish or grey skin color.
Is not waking up or talking.
Has severe or constant vomiting.
Is breathing fast or having trouble breathing.
Is not drinking enough fluids or not going to the bathroom.
Is cranky and does not want to be held.
Gets better, but the signs get worse again.
At Children's Hospital, we know keeping your children healthy is your main concern. However, should your child become ill, our Emergency Department is open 24/7, 365 days a year. Not only can you be certain your child will be given the best pediatric treatment available, but find comfort in knowing it will happen in a safe, child-friendly place by medical staff specially trained to care for children.
Darci Hodge is the Director of Infection Control at East Tennessee Children's Hospital. Visit www.etch.com for more information.
Related posts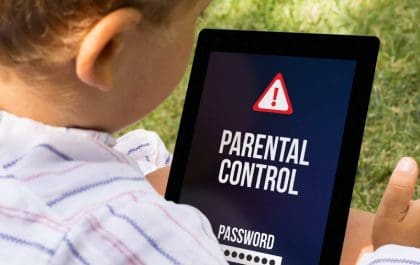 Set Up a Parental Control for Online Safety
Have you ever wondered how long your children spend in front of a device without your supervision? Yes, it is…
Adopt A Life, Save A Life
By Jeff Ashin, CEO, Young-Williams Animal Center. Photo by: Young-Williams Animal Center Are you or your child thinking of adding…