Thanksgiving is a perfect opportunity to recognize the people who have positively influenced the lives of our children. This month, we share multiple opportunities to "give back" to those who have made your children's lives better, which means they've also made your life better! Whether for teachers, friends, neighbors, work mates, or relatives, showing your appreciation is a great way to give thanks and celebrate the true meaning of Thanksgiving.
1. Create a homemade, handwritten thank you card.
2. Invite them to join you in doing something you know they would enjoy.
3. Give them a verbal compliment…it goes a long way.
4. Record a CD with a special thank you or friendship song.
5. Cook them a light breakfast, lunch or dinner, and deliver it to them.
6. Return a favor when they least expect it.
7. Give them a hug, and simply say, "Thank you."
8. Write a short letter of appreciation.
9. Bake them a dozen cookies from a simple cookie mix.
10. Offer to do something for them that you know they hate doing.
11. Make a gift basket filled with chicken soup and crackers when they are sick.
12. Invite them to join you for dinner.
13. Collect and give them coupons for items you know they purchase.
14. Pass on an unused gift that they would find useful.
15. Give them a gift certificate to their favorite restaurant or store.
16. Choose a book on a subject that interests them, and send it to them as a surprise.
17. Pet sit for them.
18. Buy them movie passes for a family or "girls" (or "guys") night out for two.
19. Put flowers from your garden in a decorative jar and place them on their doorstep, desk, etc.
20. Place a personalized mug on their desk filled with a packet of cocoa mix and marshmallows.
21. Surprise them with a disposable camera if they are planning a vacation.
22. Arrange to take their child to a "day out."
23. Give them a candle and attach a note that reads, "You are a light in my child's life."
24. Give a journal to them and fill out the first page with a message of gratitude.
25. Give them a box of "thank you" cards and write the first card to them.
26. Babysit or sit with an elderly relative, so they can enjoy a "date night."
27. Share a family recipe of their favorite dish that you make.
28. Make a donation to their favorite charity in their name.
29. Give them an IOU for a task or small job of their choosing.
30. Take them a piece of their favorite dessert.
31. Make reservations for them at their favorite restaurant, or pick up the check the next time you go to dinner.
32. Write a message expressing your gratitude and post it if they have a web page or other social media account (Facebook, Twitter, etc.).
33. Have your child create a collage or piece of artwork they would enjoy.
34. Spend quality time with them during a short visit.
35. Carry their newspaper to their doorstep.
36. Invite them to your place of worship and brunch afterward.
37. Register a star in their name. Visit www.ors.org for details.
38. Purchase their favorite movie on DVD.
39. Put a few dollars on an "emergency" gas card.
40. Purchase a subscription to a magazine in their name.
41. Register them for a monthly gift, such as fruit or cheese.
42. Have your children join you as you pull weeds from their garden.
43. Make them a "Movie Night" basket with one or two of their favorite movies, their favorite drink and candy and a package of microwavable popcorn.
44. Help them (or encourage them) in their effort to achieve a personal goal.
45. Gift them your favorite book and provide a note letting them know how much it means to you, as well as how much they mean to you.
46. Send flowers to them at their workplace.
47. Offer to pay for parking if you go somewhere together.
48. Have your children join you as you wash their car.
49. Give them a homemade coupon book, including "gifts" like "This coupon is good for one weekend play date."
50. Now, YOU think of some unique ideas and share them with us for next year's article! Please send your suggestions to tracey.matthews@knoxschools.org. Although Thanksgiving is only once a year, seize every opportunity to express your gratitude to those who positively touch your child's life throughout the year. In today's busy world, actually taking the time to express your gratitude will be greatly appreciated and perhaps unexpected.
Related posts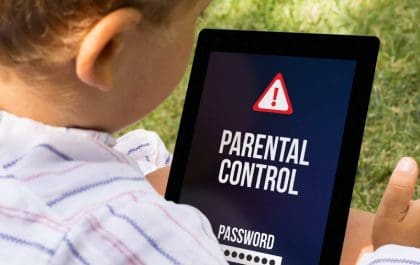 Set Up a Parental Control for Online Safety
Have you ever wondered how long your children spend in front of a device without your supervision? Yes, it is…
Adopt A Life, Save A Life
By Jeff Ashin, CEO, Young-Williams Animal Center. Photo by: Young-Williams Animal Center Are you or your child thinking of adding…