Building On A Foundation Of Love
AlisonMurry, 8 years ago
5 min

read
23
Catholic Schools—A Gift of Eternal Value
By Sedonna Prater, Director, Curriculum and Instruction for the Knoxville Diocese Catholic Schools
Who can resist an exquisitely wrapped gift box with glossy, iridescent ribbon taunting us to take a peak? As children, our imaginations go into overdrive as we wonder and dream about the hidden delights within those brightly covered boxes. I am sure all can recall those vivid childhood memories of the greatly desired toy that you just couldn't wait for Santa to bring. Opening that long awaited gift and retreating into hours of pure joy with the new, delightful toy was a thrilling experience. I also recall the disappointment when too frequently the toy did not live up to the lofty expectations I had created in my mind or the even greater disappointment of losing the toy altogether because it was not made to last very long. Adults also have to admit there is a pleasurable rush whenever they are surprised with an unexpected gift. While adults may become jaded by their experiences, they also become wise and realize gifts of genuine value are those not necessarily found in brightly covered packages. Education is certainly one of these priceless gifts. How blessed are we to live in a country that values this precious gift and seeks to provide education for all!
Educators plant, cultivate and nurture the seeds of enlightenment in their students. They provide loving, caring environments where children can learn to express themselves. They instruct their students in the skills needed to be successful citizens in a global society. While most educators never fully realize the fruits of their labor, evidence of their work is apparent. Ask almost any successful person who he/she credits for his/her success and the answer is often a teacher.
We are blessed by the fact that our founding fathers saw the importance of education in our country. We are also blessed with the privilege to establish faith-based schools. It may not be common knowledge, but the first Catholic school pre-dated the American Revolution. In the early 1600s, Franciscans in America expressed their desire to "teach children Christian doctrine, reading and writing" and they began the first American Catholic School in St. Augustine, Florida. Throughout a lot of America's early history, Catholics were a major minority and Catholic schools were few. By 1852, the first Plenary Council of Baltimore urged every Catholic parish in the nation to establish a school. From that time, Catholic schools grew across the nation to their largest enrollment of over 5.5 million students in the mid-1960's. Throughout the years, Catholic schools have been available and present for their families, community, nation and church. Nearly 400 years after the first known Catholic school opened, these schools continue to be a gift to our communities and nation.
What makes the Catholic school a gift to our communities? Catholic schools are founded on four guiding principles: 1.Proclaim the Gospel message of Christ 2. Build community and fellowship 3. Cultivate the spirit of service 4. Provide academic rigor and excellence. Catholic schools have remained committed to their mission and identity by ensuring every Catholic school is dedicated to these guideposts.
Proclamation of the good news and the revelation of Christ's love is at the center of Catholic school education. Catholic schools allow their students to have an active faith in God and his revealed truth through daily prayer and actions. This precious gift fosters a maturing spirituality where a child can know and love God and others. While faith formation is an individual journey for each person, the Catholic school recognizes the human need for relationships.
The second basic tenet of the Catholic school is the gift of community. Individuals do not live in isolation of others. Our experience as humans is shaped by our interconnectedness. Catholic school students learn to build community in all areas of life by experiencing relationships developed from fellowship in friendship, trust and love. Christian education ministry includes as a dimension of high importance the education of justice which should direct our national, political, cultural and economic policies. The philosophy behind community is the idea that one person's problem is everyone's problem just as one person's victory is everyone's victory.
The third gift is the development of the spirit of service. Christ first modeled the ideal of servant leadership. Caring about one's community leads naturally to an altruistic spirit. Catholic schools recognize that all children are imbued with dignity and unique gifts and talents special only to each of them. Catholic schools strive to identify and nurture these individual gifts and talents and encourage the students to use them for the good of the community. Service learning is itself a very special gift of immeasurable value. Service education or experiential learning provides students with the intrinsic value of feeling good about helping others and being able to see the good. It also helps children to learn how to be responsible, problem-solve and complete goals. It builds resilience and is a natural self-esteem builder.
Finally, academic excellence and rigor is a hallmark of Catholic school education. Because the Catholic school mission is so clear: teach children the truth, develop the whole child-spiritually, emotionally, physically, socially, cognitively, and cultivate an environment of love, respect and personal self-discipline the resulting end is a place where students thrive and can excel in all of their pursuits.
Catholic schools have the lofty aspiration to build the kingdom of heaven one student at a time, but first they are providing the gift of education to one student and the gift of hope to one family at a time. If you could wrap a Catholic school in pretty colored paper and tie it up with a big bow, what would you find inside? I believe you would find a gift of eternal value. I would like to encourage you to come and visit any of our Catholic schools in the area and see the wonder within.
Related posts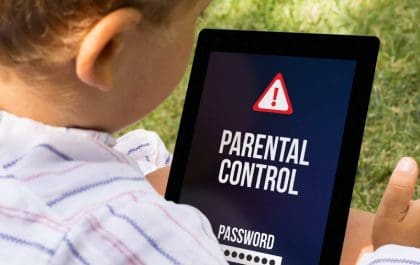 Set Up a Parental Control for Online Safety
Have you ever wondered how long your children spend in front of a device without your supervision? Yes, it is…
Adopt A Life, Save A Life
By Jeff Ashin, CEO, Young-Williams Animal Center. Photo by: Young-Williams Animal Center Are you or your child thinking of adding…