By: Tracey Matthews, KCS Family and Community Engagement (FCE) Supervisor Contributing Writer: Nicole Galler, KCS FCE University of Tennessee Intern
Summer is a wonderful time for fun and memorable experiences, but it also serves as the perfect transition period for your child to continually improve upon his or her knowledge for the coming school year. This is an important time for your child to practice subjects he or she may have struggled with in the past using enjoyable and educational games available on the go.  With technology available at the fingertips of many families, it is easier for parents to take advantage of the many free educational applications (also known as "apps") that are available on tablets and smart phones.  Below you will find a list of seven highly recommended apps personally reviewed and designed to promote learning in enjoyable and interactive ways for both children and adults!
BrainPOP Featured Movie (All subjects; Age 9 & up)
This app offers users a new educational video every day that will cover topics from a wide variety of subject such as science, music and history. After watching the video, your child will be able to take a quiz on the material covered in order to test his or her comprehension. Users are also able to view archived videos from previous daily posting, giving them the ability to learn about unique and interesting facts whenever they have a spare moment.
Duolingo (Foreign Language; Age 13 & up)
If your child is getting ready to start a foreign language class, or just curious about learning a new language, Duolingo is a great starting place. The app offers mini-games that cover reading, writing and speaking skills, and make learning as addictive as any video game. The user has the ability to learn nine different languages on this app and can even compete against friends to keep the games challenging and interactive!
Dictionary.com (Vocabulary/Etymology; Age 7 & up)
The Dictionary.com app takes the days of skimming through a large paper dictionary to a whole new level. Featuring a word of the day that "pushes" to your home screen, trending words and an interesting blog, users are not only able to search for words in the dictionary, but also learn new words and gain more insight into the words that are currently trending.
Monkey Math-Jetpack Adventures (iPhone); Monkey Math Free-Kids (Android) (Addition, Multiplication, Division, Subtraction; Age 6 & up)
If your child is on the road to learning or is currently learning addition and multiplication the Monkey Math app helps children with these skills in combination with critical thinking skills. The app allows users to feel as though they are truly immersed in a video game, creating a depth of challenge that makes mathematics a real competition!
ACTStudent (iPhone); ACT Test (Android) (ACT Preparation; Age 12 & up) 
It's never too early for your child to start preparing for college entrance exams! Both the ACTStudent app and ACT Test app put questions pertaining to the English, Math, Reading, and Science categories of the ACT in the palms of student's hands, providing an easy way to experience ACT level questions whenever the user has a couple minutes of free time. When the user answers a question either correctly or incorrectly, a tailored explanation appears to either enforce correct answers or explain why the answer was incorrect.
NASA App (Science: Earth; Age 7 & up)
Give your child the stars, moon, and an unbeatable view of the Earth, without ever leaving home! The NASA App is an educational experience that gives users access to thousands of awe-inspiring images, live streaming from NASA TV, and access to current NASA news and information. This app can spark your child's interest in science, or continue to amaze them with all that our galaxy has to offer!
Elements- Periodic Table Element Quiz (Science: Chemistry; Age 10 & up)
If your child has struggled in the past with learning the Periodic Table of Elements, or would like to start learning this oftentimes-challenging material, this app is a great way to start. The Elements app quizzes users on matching an element name to its symbol and offers both an easy and a hard level. To add some extra competition to the game, the user can choose to post scores to social media sites and encourage friends to score higher!
You can enjoy these apps with your child during car rides, while waiting during appointments or as a regularly scheduled part of each day before school begins and even after! There are many educational apps beyond the content of this list that cover a diverse range of subjects and are targeted to different age groups. With that in mind, the Family and Community Engagement Department encourages you to try the apps listed above as stepping stones towards discovering even more relevant apps to facilitate your child's unique learning needs.
Tracey Matthews currently serves as Knox County Schools' District-wide Family and Community Engagement Supervisor. In this position, Tracey has been entrusted with the responsibility to facilitate the district's course toward building stronger and lasting partnerships between families, schools, and the community. For more information, please visit the Family and Community Engagement at knoxschools.org.
Related posts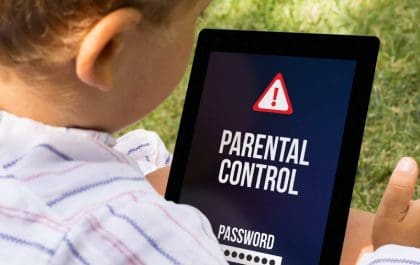 Set Up a Parental Control for Online Safety
Have you ever wondered how long your children spend in front of a device without your supervision? Yes, it is…
Adopt A Life, Save A Life
By Jeff Ashin, CEO, Young-Williams Animal Center. Photo by: Young-Williams Animal Center Are you or your child thinking of adding…