What's new with Knox County Schools?
AlisonMurry, 9 years ago
5 min

read
71
You're Invited to the 8th Annual Parent Conference: Parents…Our True Superheroes!
The Knox County Schools, Knox County Council PTA, and Project GRAD Knoxville are partnering to present "Parents…Our True Superheroes!" at the 8th Annual Parent Conference.
The Parent Conference will be held at the Knoxville Convention Center located at 701 Henley Street on Tuesday, October 23, 2012 from 8 a.m. to 1:30 p.m. with extended exhibitor hours through 3:30 p.m. A light, complimentary breakfast and lunch will be provided along with a variety of free materials to all parents and caregivers of Knox County Schools' students.

"Parents and extended families are critical ingredients in educating our children," says Dr. Jim McIntyre, Superintendent of the Knox County Schools. "This conference will provide a wonderful opportunity to support meaningful engagement for our most important allies in education. It will also provide access to valuable resources to help our children succeed academically and in life."
Parents will have the opportunity to attend multiple workshops on topics identified through input from parents throughout the Knox County Schools, such as homework help, resources for English language learners, special needs advocacy, college prep, and more.
Dr. Autumn Tooms Cyprès, director of the Center for Educational Leadership at the University of Tennessee, Knoxville, will present, "The 10 Best Things You Can Do To Make a Greater Difference in the Lives of Children" during the keynote lunch.
Space is limited to 800 guests, and registration is required by Tuesday, October 9. Registration can be completed online by visiting www.knoxschools.org or by calling (865) 594-1192.
Carpooling is encouraged. Complimentary parking and shuttle services to the Knoxville Convention Center will be provided by Knox County Schools to those who park at the Blackstock Parking Lot located at 640 Blackstock Avenue. Additional downtown parking options are available for those who wish to make alternate plans.
Exhibitors at the event will include a variety of local non-profit organizations, community-wide educational resources, along with colleges, universities and institutes.
For more information, please visit the Family and Community Engagement Department site at www.knoxschools.org.
Get ready to save with Knox County School's Annual Coupon Book Campaign!
[dc]T[/dc]he Knox County Schools will officially kick off its annual coupon book sale on Thursday, Sept. 6 at 10 a.m. at Belle Morris Elementary School.
The top-selling students from last year's campaign will be recognized at this event. Representatives from the coupon book's six corporate sponsors – U.S. Cellular, Rusty Wallace Honda, Rusty Wallace Kia, Junk Bee Gone, Stanley Steemer Carpet Cleaners, First Tennessee Bank and Comcast – will also be on hand.
The Original Knox County Schools Coupon Books provide funds to meet school needs identified by parents, teachers and school administrators.  Students sold 156,175 coupon books during the 2011 campaign representing a profit of $1,382,148.75. Since 1989, over 3 million coupon books have been sold to raise more than $26 million for Knox County students.
This year's book includes 45 new merchants and a Sevier County family fun section, which features popular attractions in Pigeon Forge and Gatlinburg.
The coupon books cost $10.00 with $7.90 going to the school where the book is sold.  Schools with a high number of economically disadvantaged students share $.72 from the sale of each book.  ebook subscriptions for all Knox County Schools' libraries is funded by $.13 of the proceeds and another $.07 funds the "Schooled for Success" program, an eighth grade career awareness initiative in each Knox County middle school.  The cost of printing is $.63 per book.  Only $.55 of the book's cost goes to cover administrative and student incentive cost.
The Original Knox County Schools Coupon Book contains money-saving offers worth more than $10,000, providing discounts on fast food, fine dining, personal and professional services, as well as shopping and entertainment.  Students sell the coupon books, which feature discount coupons for over 300 area merchants, in a two-week campaign conducted this year from Thursday, Sept. 6 through Monday, Sept. 24, 2012.
Additional information and a list of participating merchants can be found at www.knoxschools.org.
[dc]M[/dc]ark your calendars for Monday, Sept. 24 through Sunday, Sept. 30, 2012 for "Thank a Teacher Week." This teacher appreciation week is designed to reinforce the value we place upon our tremendous educators and the work they do every day in the classroom.
As parents, there are so many ways you can join the community in expressing your appreciation for the work of our Knox County teachers. Some of those ways could be:
Parents write a note or email your teachers expressing your thanks.
Have your child draw a picture and either you write or your child write what they think makes their teacher special.
Attach a note saying "thank you" to an apple and send in to your teacher.
Bag up some peanuts or other nuts and write a note saying "We're nuts about our teacher".
Google "Teacher Appreciation" and you will find all sorts of creative ideas. One creative website is: http://www.skiptomylou.org/teacher-appreciation-ideas/. This site offers some step-by-step adorable projects to show appreciation for teachers.
Many groups are involved in making this week a success, which include the Knox County Schools, the Great Schools Partnership, KCEA, PTA, the Knoxville Chamber, Knox County Partners in Education, SIMPLY SMART Foundation for Education, and Support Our Schools.
Related posts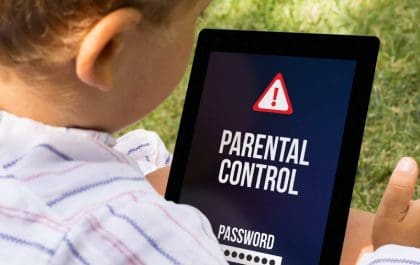 Set Up a Parental Control for Online Safety
Have you ever wondered how long your children spend in front of a device without your supervision? Yes, it is…
Adopt A Life, Save A Life
By Jeff Ashin, CEO, Young-Williams Animal Center. Photo by: Young-Williams Animal Center Are you or your child thinking of adding…