They are all the fun years
AlisonMurry, 9 years ago
4 min

read
24
By Paul Gentry
"I am trying hard to slow down, because time seems to be speeding up. My boys will be in college in just ten short years, growing into men with lives of their own."

Melody, Paul, John, Luke and Andrew Gentry
Eight years would have seemed like a long time, if you had walked up and started a discussion with me on the perception of time a few years ago. It was roughly eight years ago that my wife and I were going through fertility treatments, and, after four years of failed attempts, we found out things were finally paying off with positive results. That was June of 2006, and my wife's pregnancy paid off…times three! My triplet sons will celebrate their eighth birthday this coming January, but it seems like decades ago since they were born, with little time to reflect on what has occurred since: running to work, home for supper, basketball practice, cub scouts, church, swim team meets, string recitals. The list goes on.
With the busy world we live in, I have recently realized that reflection and thankfulness are things easily overlooked during the daily hustling and bustling. I am realizing more and more the old saying inscribed on many timekeeping mechanisms and in Latin primers: "Tempus Fugit." Time really does fly, or more accurately to the translation, it flees. With the time with my children fleeing, both the time while they are living at home and my time being physically able to be with them on this side of the grave, I have been recently reflecting on what true thankfulness is and how to cherish and enjoy each and every moment with my family.
True thankfulness (my definition of it) includes being thankful every day for a merciful God who has seen fit for me to live in this great country, have a wonderful and healthy wife and children, a good job, and the vast array of opportunities that most all of us have before us on a daily basis. For me, one of those opportunities is to be a dad to children. Along with this opportunity comes a responsibility to help mentor and lead through example children who have the utmost adoration for us who are parents.
With all the input we receive these days, be it email, voice mail, text messages, etc., I feel overloaded and overwhelmed much of the time with too much to do and not enough time do it. I'm sure many of you have experienced this as well. Time for family fun seems limited, but I am trying to make a conscious effort to slow down and take the time for fun, to enjoy life and family, and to be thankful for the opportunities given to me. I have talked to too many people who have regrets of what they should have done. We all have them, but I am trying hard to slow down, because time seems to be speeding up. My boys will be in college in just ten short years, growing into men with lives of their own.
I have had discussions with moms and dads on the topic of "the good years" or "the fun years." Looking back on the eight years I have had so far with mine, I am in the camp of "they are all fun years." Some seasons of life are harder than others. Changing three diapers and feeding three mouths was challenging. People constantly ask my wife or me, "How did you do it? You sure do have your hands full!" I tell them we did it because we had to, and we don't know anything else. We have no concept of one child. We only know three all at once. God has a plan and sometimes we don't know what that plan is or why we are given the challenges put before us. We just grin and bear it, making the best decisions we can one day at a time. We are having a ball right now with the guys learning how to read, how to be better swimmers, how to serve others by volunteering with Mobile Meals, getting along with others, and so on.
The realization that what I heard growing up from folks that life is short is now really ringing true. Allow me to put on my ole' timer hat and say: "Our time on earth is short. Our time with our kids is fleeing. There is more work to do. More ball games to go to, more camp outs, graduations, weddings, more seasons, more learning, more to do: More good and challenging times." I love family very much. I am reflecting on what has happened and what will. I am very thankful.
Paul Gentry is an ES&H Program Manager for Spectra Tech, Inc. in Oak Ridge, TN. He has been married to Melody Ryon Gentry for twelve years. He grew up in Lenoir City and has a BA in Environmental Safety & Health from ETSU. In his spare time he enjoys amateur radio, photography, and outdoor activities.

Related posts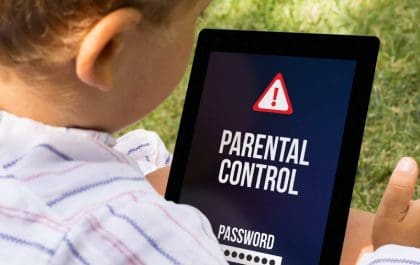 Set Up a Parental Control for Online Safety
Have you ever wondered how long your children spend in front of a device without your supervision? Yes, it is…
Adopt A Life, Save A Life
By Jeff Ashin, CEO, Young-Williams Animal Center. Photo by: Young-Williams Animal Center Are you or your child thinking of adding…