Spotlight Fit Family: Meet The Childers
AlisonMurry, 6 years ago
3 min

read
50
By Adam Kalwas, Publisher and CEO of Knoxville Parent Magazine
The My Fit Family Challenge is making its first appearance in the Knoxville area. This program is dedicated in promoting healthy living to not only families, but to anyone that is willing. Knoxville Parent will be sharing three editorials starting this month until June about two families that have set goals for themselves in order to be active together, and improve in areas that they felt needed more attention. Our families understand the task set before them and are willing to fulfill their goals once the challenge is completed on June 26th. Let's meet the first Spotlight family, the Childers.
Who Are The Childers?
The Childers family is made up of Husband and Father, John Childers, Wife and Mother, Courtney Childers, and their two sons, Crawford (4.5 years old) and Cole (1.5 years old). John and Courtney are originally from Pulaski, TN where they started out as high school sweethearts. John works in sales, while Courtney is professor at the University of Tennessee. As a family, the Childers love to watch and play sports, travel, and visit family in Northern Alabama. They enjoy spending time together out on the Tennessee River when they get the chance.
What Is Their Goal For The Challenge?
Courtney and John both are aware of important it is in creating a healthier environment for their two sons, especially since Crawford and Cole are still so young. They want to be role models for their two boys by instilling healthy behaviors such as, eating less junk foods and being active as a family. This will show their sons that being active doesn't have to seem like a chore, and instead it can be looked at as something fun and positive. Courtney and John are taking this opportunity to better themselves and their children because they understand the value of togetherness and living healthy lives for as long as they can.
What Difficulties Will They Face?
Since the Challenge is set during the summer, the Childers family knows they may run into some speed bumps along the way. The biggest factor will be their planned vacation time. Courtney and John state that vacations present a potential threat to eating habits, as well as being motived to consistently being motivated to being active. Vacations are a time of rest and relaxation, but that doesn't always mean opportunities for being active will be missing. Vacations might even present ways to make simple things like walking more interesting because of the different surrounding environment. Same goes for eating habits. The Childers love to eat seafood, and they do so when they go for a beach vacation together. Also, they very much enjoy swimming. They are in the water so much that Courtney calls her family a bunch of "water dogs". They cannot get enough of jumping, diving, playing, and swimming in all manners of water.
They want to be role models for their two boys by instilling healthy behaviors such as, eating less junk foods and being active as a family.
The My Fit Family Challenge starts May 1st and will last for 8 weeks. Knoxville Parent encourages others in the Knoxville community to follow in the footsteps of the Childers family and take the Challenge themselves! By registering online at www.myfitfamilychallenge.com, participants have chances to win weekly prizes. All that is required is logging you and your family's minutes online at least once a week. Being active just got a lot more interesting! Tune in next month as we introduce our next and final Spotlight family. Until then, lets all do our best to promote health in our Knoxville community!


Adam Kalwas is the Publisher and CEO for Knoxville Parent Magazine. He is a proud  husband, and he wants to shed positive light towards families in the greater Knoxville area for many years to come. Adam is graduating from the University of Tennesse in May 2016.
Related posts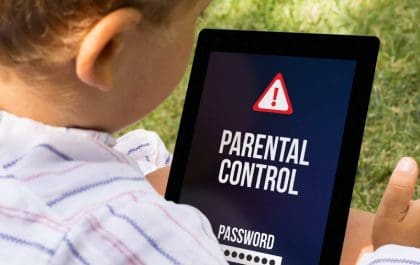 Set Up a Parental Control for Online Safety
Have you ever wondered how long your children spend in front of a device without your supervision? Yes, it is…
Adopt A Life, Save A Life
By Jeff Ashin, CEO, Young-Williams Animal Center. Photo by: Young-Williams Animal Center Are you or your child thinking of adding…